ANSOTEC has been present in the central pavilion of the Expoliva Fair, where it has presented its Digital Transformation solution – Almazara Conectada 4.0. During four intense days, Expoliva has become a true global epicenter of the olive grove and olive oil sector and related industries: olive machinery, cooperatives and industrial oil mills, fertilizers and fertilizers, bottling and distribution companies, technology, etc.
Connected Oil Mill 4.0
ANSOTEC has developed a specific solution for the Olive Sector, under the name of ALMAZARA CONECTADA 4.0. with the aim of developing a product that responds to the great challenge represented by the implementation of Digital Transformation Models in the oil mills.
It is a model in which the coordination and interoperability of the systems is collaborative with all the processes involved as a multi-gear in the production of quality oils, from the field to the shelving of a large area; covering the entire value chain. In which a main part is the Almazara and its teachers and operators, who are a very important part in this scenario. ANSOTEC, with Connected Mill 4.0, makes available to potential national and international clients an innovative and reliable DIGITAL TRANSFORMATION solution, which allows them to improve and optimize their mill, safely and without risk. ANSOTEC has spent more than two years developing, testing and implementing the solution, recognized by a success story publication from the US manufacturer ROCKWELL AUTOMATION.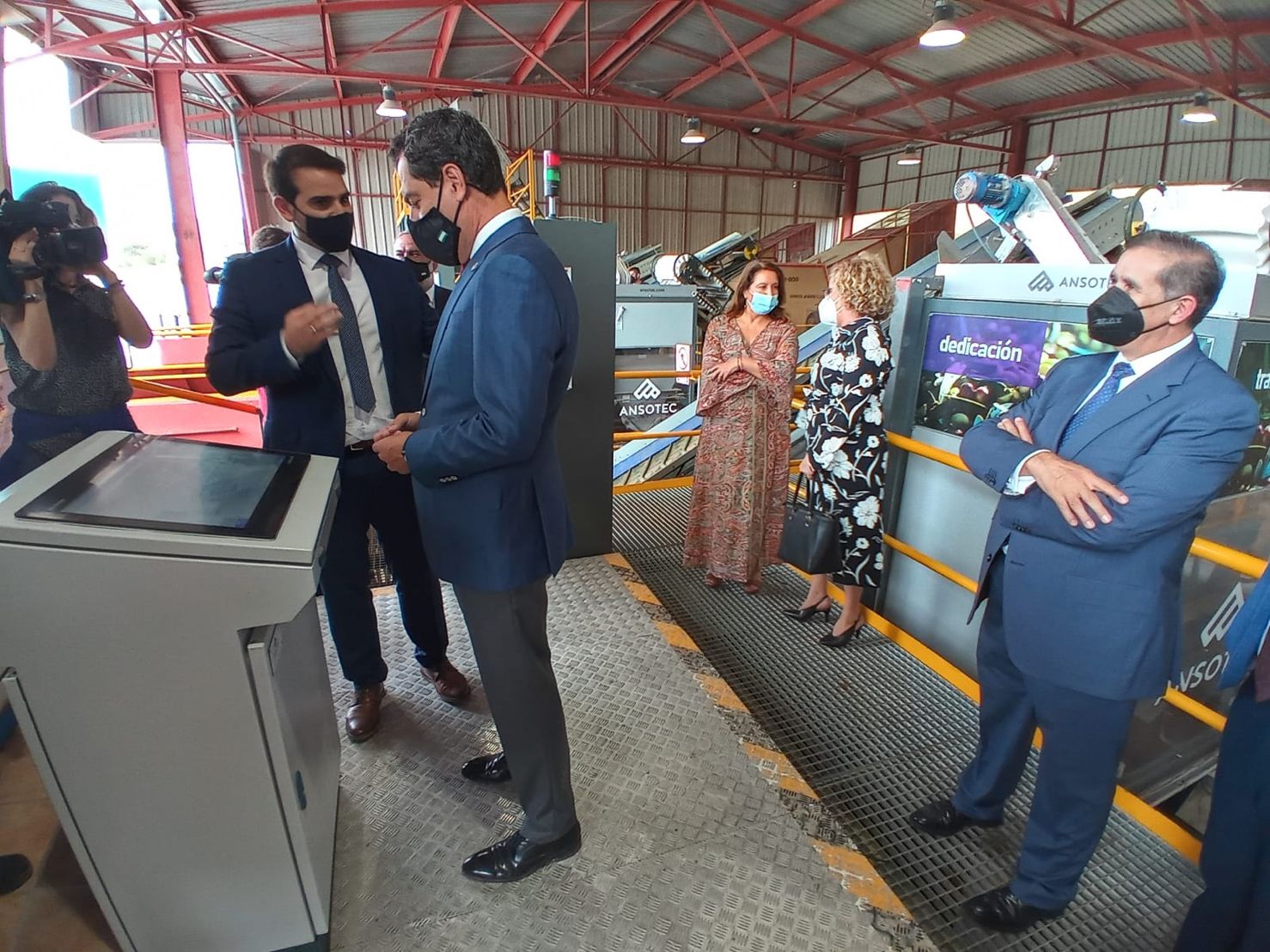 EXPOLIVA 2021, which was held from September 22 to 25, has been this year the main World Fair for the promotion and development of the Olive Grove and Olive Oil Sector.
Expoliva is not only a trade fair for professionals in the olive oil sector and related industries, but over the years it has become a unique space to host both a general public and technologists and scientists who present the latest innovations developed within the framework of the olive grove and international olive oil.
Presentation of Almazara Conectada 4.0 to President Juan Manuel Moreno Bonilla

Along with the Expoliva Fair, we have presented our Connected Almazara 4.0 project to the president of the Junta de Andalucía, Juanma Moreno.
We have done it in the new facilities of Conde de Benalúa, where our Connected Oil Mill solution is integrated.
Juanma Moreno highlighted the role of Andalusian cooperatives that contribute to the dynamism of many municipalities in the interior, while praising their conversion into Industry 4.0 to open new markets for olive oil. Moreno has inaugurated, together with the Minister of Agriculture, Livestock and Sustainable Development, Carmen Crespo, and the Mayor of Benalúa de las Villas, María Angustias Cámara, the new facilities of the San Sebastián Cooperative located in this Granada municipality, which he has defined as an example of the capacity and courage of the social economy to adapt to new and complicated times. Thus, he has referred to the expansion of this cooperative which means reactivation and which translates into new challenges, enthusiasm, strength and conditions to grow and be the protagonist of the economic leadership of Andalusia. "I wish you much success in your future plans. The olive sector is called to be the flag of the recovery after the pandemic and will always have the help and support of this Government"